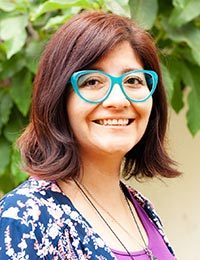 "What I enjoy most is being able to choose, polish and shape those quartzes and other minerals I've loved ever since I was a child."
"My name is Susan Alfaro and I was born in Lima. As a child, I lived in various mining camps throughout Peru because of my father's job as a mining engineer. It was a wonderful experience for me because I got to see first-hand the diversity of my country. I lived in Cerro de Pasco, Oroya, Cajamarca, Arequipa and other cities.
"As a child, I liked to look for quartz or other minerals in the mines for hours. I also love to draw and I loved seeing the jewelry the women wore. In Lima, I learned from an uncle who created pieces with gold and silver and showed me how to look for different shapes of silver and taught me how to draw. I enjoyed going to his workshop and seeing the different molds and semi-precious stones he would handle.
"After high school, I studied economics and then specialized in finance while attending grad school in Spain. It was there that I found the opportunity to develop what I enjoy the most, designing jewelry and working with quartz. I took a silversmith course in Madrid which completely fascinated me and so began my personal search to focus solely on jewelry design. What I enjoy most is being able to choose, polish and shape those quartzes and other minerals I've loved ever since I was a child. I can say that my hobby has been looking for quartzes ever since I was a little girl.
"One of the experiences that marked me as a child was when we lived in the mines during the 1980s. During that time, Peru had many internal conflicts and terrorism. On one occasion, we had to escape the terrorists that invaded our mining camp. But I look at the positive side of things and I feel fortunate to have lived through so many lovely things. I'm also a little distracted since I've had many silly experiences, like this one time I was in a parking lot and wanted to open the door to a car that looked a lot like mine and didn't realize it was another car with someone inside.
"In 2011, I returned to Peru, and since 2013, I've worked on creating my own designs. It has been one of the best decisions I've made in my life. I have a small workshop in my home where I work with silver, gold, quartzes, minerals and semi-precious stones.
"My inspiration comes from the shapes of the universe and is also a fusion of astral shapes and Incan culture. I like applying creativity to basic pieces and looking at the same object from different perspectives. The challenge is to always improve and change the vision."
Cause Badges

Empowering Women
Customer Reviews
Purchased this? Leave your review.